Flagstaff AZ Real Estate Market Data Provided by The Kelly Broaddus Real Estate Advisors Team / by Joselyn Uy
Flagstaff 's Housing Market Off to a Brisk Start In January, Inventory Remain Light
We hope that your year has been off to a great start! With February almost in the books and the home selling season getting ramped up, we wanted to pass on some information on how the year kicked off.
FLAGSTAFF SINGLE FAMILY HOME SALES
January is traditionally one of the slowest months in real estate. US existing home sales slipped for the 1.3% while Greater Flagstaff's January housing sales dropped 19% vs Dec 2019. Compared to a year ago Flagstaff home sales started with very strong with 78 units sold vs January 2019 when there were only 37. Here's why:
Interest rates are still sitting near three-year lows
The labor market is strong and wages are going up with inflation pressures remaining low
The weather is nice, people can get out and look at properties
With last year's deals finally closing last month, 2020 started a bit slower for the Kelly Broadus Team vs last year. We bagged our second highest January sales ever with 6 properties valued at $2.8M sold the first month of this year. We expect that spring's going to be a great market!
FLAGSTAFF MEDIAN HOME PRICE
January housing prices for the greater Flagstaff area remained flat year-over-year, with the median sales price coming in at $397,000. If we consider single-family homes only, the figure is much higher at $413,000.This is a new monthly record.
DOWNLOAD THE FULL FLAGSTAFF MARKET REPORT HERE
January 2020 Flagstaff Market Watch Summary
Total Single Family Home Sales - 78 homes, up 210% vs January 2019.
Median Single-Family Home Price - $413,000, up 6% vs January 2019, highest in more than a decade
Mortgage rates - A 30 year fixed rate mortgage with 5% down and very good credit remain under 3.5%
Longest days on market (SF): 1,034 days Originally listed for over $2.6M in 2017 this luxury home stayed on the market for 34+ months before it sold. This is also the most expensive property sold in Jan 2020.
CDOM The acronym CDOM (Cumulative Days on Market) is used by the Flagstaff MLS to describe how many days a property has been available for sale. A property has to be off the MLS for at least 90 days for the CDOM to restart, even if it is listed by a different agent. We report the average days on market for properties sold based on CDOM.
The number of days a home sits on the market can tell us a lot about pricing. A high CDOM is commonly a strong indicator that the home is overpriced.
FLAGSTAFF'S PRICIEST HOMES SOLD in JANUARY 2020
Photo courtesy of RE/MAX Fine Properties
The highest-priced single-family Flagstaff home that sold in January was $1,965,000 - a 4 bedroom, 6,429 sqft Pine Canyon luxury home with views of the San Francisco Peaks from every window
The highest-priced Flagstaff townhome sale in January was $490,595 - a 3 bedroom new build in Switzer Mesa by Miramonte Homes. One mile from downtown with direct access to the urban trail system
The highest-priced Flagstaff condo sale in January was $897,326 - a Pine Canyon luxury new-build featuring a central gourmet kitchen, spacious bedrooms, and a large covered balcony
THE MOST AFFORDABLE FLAGSTAFF HOMES SOLD in JANUARY 2020
Photo courtesy of RE/MAX Peak Properties
The lowest-priced single-family Flagstaff home that sold in January was $231,000 - charming rustic one-bedroom mountain cabin in Kachina Village
The lowest-priced Flagstaff townhome that sold in January was $164,100 - Two Story Sunnyside Townhouse with a beautiful view of Mt Eldon off the upstairs balcony
The lowest-priced Flagstaff condo that sold in January was $159,000 - Updated 622 sqft Tanglewood condo perfect starter or vacation home
Flagstaff Home Buyer Advice
If you are buying a home this winter, get pre-approved for a mortgage now. Take advantage of mortgage rates sitting near three-year lows- under 3.5% (mainly due to concerns about the continued spread of the coronavirus).
Can older Americans still get a mortgage?
Without a full-time job any longer, some retirees may wonder how they'll qualify with limited monthly earnings. Lenders are now qualifying older adults for a mortgage based on their pensions, their social security dividends, and any interest that they're getting. Anything that's available to them. There's a very good chance that they're going to be able to get a mortgage. Especially with the big down payment that they put down because they're selling their current house.
Here is what you need to know about the mortgage process.
New loan limits for Conforming and FHA loans for 2020:
Conforming Loan limits for SFR $510,400. In certain high-cost areas, it's even more.
FHA new loan limits for SFR $331,760.00 In certain high-cost areas, it's even more.
INVENTORY
Inventory levels remain light which is normal for this time of year. Builders are seriously ramping up their construction of new homes to meet all the excess demand. That's great news for buyers who are desperately looking for a new home. Currently, inventory is lower vs last month.
With demand for affordable Flagstaff homes exceeding supply, the competition will heat up in the months ahead. Beginning your home search now could lead to a successful and less stressful buying experience.
Need a lender recommendation for your home loan? We work with trusted lenders who will walk you through the entire process and have your best interest at heart. Contact Kelly today and we will get you one of our trusted lenders that best fits your needs.
Flagstaff Home Seller Advice
The inventory of Flagstaff homes for sale last month slightly improved after falling under to 4.67 months of supply in December. Demand far outstrips supply. Few homes are on the market, and prices continue to surge. Mortgage rates are also near historic lows, making the market even tighter. Buyers want to take advantage of the current low rates, but some simply can't find homes to buy.
All this has combined to make it a great time for anyone looking to sell a home. In these conditions, you could sell a home quickly, without hassle, and often at a premium.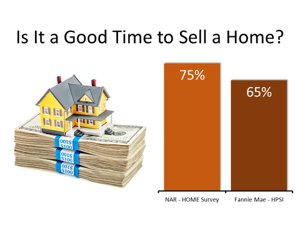 NAR and Fannie Mae Home survey results show that the majority of homeowners think it's a good time to sell.
Here are the Pros for selling your home this winter:
Fewer homes are on the market in the winter, making competition less challenging
Companies look to hire new employees in January and February, making relocations popular in the Winter
House hunters – dressed in heavy-duty boots, mittens, and thermals – are serious buyers
However, things might start to change very soon.
For one thing, mortgage rates could jump to higher levels at any point.
More new build projects are in the works. Of course, it will take time for new home construction to completely satisfy all the excess buyers on the market. Even a few new housing projects around (area) could create a chilling effect on local home prices.
That's why, if you've been considering selling your home, the time to act is now. You can get started by getting an idea of what your home is worth in the current hot market using this calculator that's based on recent sales:
Enter your home address here to find out what your Northern AZ home is currently worth
If you're considering selling your Flagstaff/Sedona home, I hope you'll give me a call at 888.446.5602. I can help you get started now, just in time for spring, the hottest time for real estate.
We at The Kelly Broaddus Team with eXp Realty know that the only result that ultimately matters is that your home gets sold — and sold for the right amount. Satisfied clients say it all. Check out our 5 Star Reviews.
You Might Be Interested In: