Flagstaff AZ Real Estate Market Data Provided by The Kelly Broaddus Real Estate Advisors Team / by Joselyn Uy
Flagstaff Home Sales
Remain Down While Inventory and Prices Level Out
While US home sales plateaued out this month after declining for 4 straight months, the Flagstaff market only recently declined for the second straight month. Seasonality in Flagstaff real estate and rising mortgage interest rates are the acknowledged drivers of this change. Inventory remains tight at the low end of the market and price per sq ft is still on the rise.
AUGUST HOME SALES DROP
This August, Flagstaff housing sales in the greater Flagstaff region dropped 10% compared to the same month a year ago. There were a total of 113 houses sold.
As for the Kelly Broaddus Team, August was our busiest month of the year with 11 transactions totaling over 4M in sales. Of the 11 property transactions, 3 were our Flagstaff listings in 2050 River Valley, 1702 W Mickey, and 1301 Royal Oaks.
FLAGSTAFF HOME PRICE
August prices were flat with a median sale price of $380K. On an average price paid per-square-foot basis, we're up 4% from last year and now at $220 per square feet.
Flagstaff Home Buyer Advice
Interest rates are creeping up, however, we're starting to see prices starting to level off because inventory numbers are getting a little bit better. If more inventory comes to the market, not only will it impact pricing. Buyers that are out there right now and the only thing holding them up is the house to buy, as inventory increases that will help both first-time buyers and move up buyers.
Inventory level for starter homes is up a bit vs last month but is still far from what is needed to satisfy the demand for affordable/starter home where homebuyer demand is strongest.
$200k- $400K, inventory is up 4% vs last month, but less than 3 months supply. It's a seller's market at this price range. A balanced market has 6 months supply of homes for sale.
$400K- $600K, up by 4% with over 6 months inventory available
Above $600K, we have over 6 months of supply. No shortage here.
New construction is a little bit better. We have out-of-state clients moving into new construction.
If you're buying at the lower price range, having fewer homes on the market could present a few challenges. Don't worry! I can help you come up with a strategy to find your next home. With winter right around the corner, expect to see quite a few more price reductions as sellers become more willing to negotiate.
Or go the traditional route and check out downpayment assistance programs from one of the reputable mortgage lenders that we work with: Fairway Mortgage
When is the best time to buy?
When prices are low and/or the lowest you can get them at and when the interest rate is the lowest you can get them at.
Home Buying Tips Our home buyer's blog will help you plan and prepare for your successful home purchase and avoid headaches and surprises that may arise during the process.
Sign up for free to receive our updates about coming soon properties and homes for sale not listed on the MLS.
Flagstaff Home Seller Advice
Do you have a home listed? Are you getting frustrated because it has not sold yet? Many on-market listings are seeing price cuts, though these price cuts are concentrated at the more expensive price-points.
Our advice to home sellers:
If you are not in a hurry to get your home sold, sit down with your agent about the best way to go about getting it sold. A few agents may recommend to get it off the market, do necessary upgrades and list back before the summer selling season begins.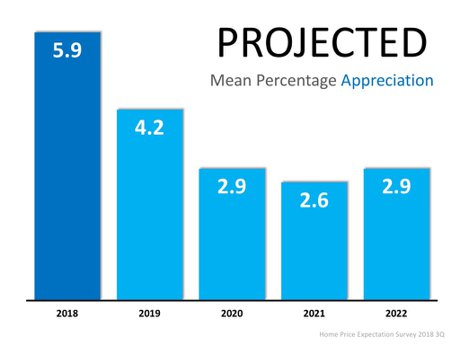 Homeowners, the Home Price Expectation Survey said we're going to end this year at about 5.9 percent. That's what the annual appreciation will be this year. Next year, your home price appreciation is expected to be above average, at 4.2 percent.
Home Selling Tips Our blog for home sellers has tons of tips to help sell your home faster and add thousands of dollars to your bottom line. Check it out.
August 2018 Flagstaff Market Watch Summary
Total Home Sales- 113 homes, down 10% vs Aug 2017.
Median Home Price- $380,000 no change vs Aug 2017
Mortgage rates up - A 30 year fixed rate mortgage with 5% down and very good credit rose to 4.5%. This is the 4th straight week that mortgage interest rates drifted upwards to levels not seen since May, according to Freddie Mac.
Longest days on market: 646 days. Flagstaff Ranch condo, one of the biggest at 2,580 sqft was on the market for over 21 months before it sold
CDOM The acronym CDOM (Cumulative Days on Market) is used by the Flagstaff MLS to describe how many days a property has been available for sale. A property has to be off the MLS for at least 90 days for the CDOM to restart, even if it is listed by a different agent. We report the average days on market for properties sold based on CDOM.
The number of days a home sits on the market can tell us a lot about pricing. A high CDOM is commonly a strong indicator that the home is overpriced.
DOWNLOAD THE FULL MARKET REPORT HERE
Flagstaff's Priciest Luxury Homes (SOLD)
$1,177,088 - The most expensive home sold that sold in August 2018 is another luxury custom home in Pine Canyon 4 bedrooms, 3.5 baths, and 3,177 SqFt.
$669,000 Another Pine Canyon home tops the list of priciest townhome sold last month!
The most AFFORDABLE Flagstaff Homes (SOLD)
GET IN TOUCH
Wondering what all of this means for you? Kelly would be happy to discuss these numbers along with our local market conditions with you personally. Feel free to call with any questions or for a complete home and market evaluation. Please contact us at 888.446.5602 or email kelly.broaddus@exprealty.com with any questions you might have about this report of the Flagstaff real estate market. Contact Us
SATISFIED CLIENTS SAY IT ALL. Check out our 5 Star Reviews.
You Might Be Interested In:
What is My Flagstaff Home Worth?