Flagstaff AZ Real Estate Market Data Provided by The Kelly Broaddus Real Estate Advisors Team / by Joselyn Uy
Flagstaff Home Sales Brisk, Up 19%
US home sales backpedaled in May. The first home bought by Zillow through a real estate agent in Phoenix closed. If you haven't heard the news, Las Vegas, Orlando and Flagstaff's neighbor, Phoenix, were the testing grounds for Zillow's "Instant Offers", a direct buying program by the real estate website giant. Meanwhile, here's what happened with Flagstaff real estate in May 2018.
FLAGSTAFF HOME SALES
After a cooling period in February, Flagstaff home sales rose for the third straight month according to data provided by the National Arizona Association of Realtors. The selling season is in full swing and home sales jumped 19% vs last month to it's highest level this 2018. There were a total of 111 sales which is up 9% from a year ago and the highest in May since 2004 when there were 117 and the median sales price was $238K. Expect a higher number this June.
FLAGSTAFF HOME PRICE
The median sale price came in at $386K which is up 3% from last May. The all-time May record was set in 2007 when the median sale price hit $400K. That's also the all-time price high for any month. What's interesting is that in May of 07 the average price paid per-square-foot was $212. This May it was $217.
High demand and very short supply continue to drive up home prices. The supply of homes has been dropping for three years. While more homes came on the market this spring, they have been selling at the fastest pace on record, according to the National Association of Realtors.
DOWNLOAD THE FULL MARKET REPORT HERE
May 2018 Flagstaff Market Watch Summary
Total Home Sales- 111 homes, up 9% vs May 2017.
Median Home Price- $386,000 up 3% up vs May 2017
Mortgage rates up - A 30 year fixed rate mortgage with 5% down and very good credit dropped to 4.375% vs last month
Median days on market: days
Longest days on market: 534 days, held the most expensive townhome sold in May 2018
CDOM The acronym CDOM (Cumulative Days on Market) is used by the Flagstaff MLS to describe how many days a property has been available for sale. A property has to be off the MLS for at least 90 days for the CDOM to restart, even if it is listed by a different agent. We report the average days on market for properties sold based on CDOM.
The number of days a home sits on the market can tell us a lot about pricing. A high CDOM is commonly a strong indicator that the home is overpriced.
May 2018 HIGHLIGHTS
Flagstaff Priciest Luxury Homes (SOLD)
$1,475,000 - The most expensive home sold last month is a million dollar home in Forest Highlands. Over 4,000 sqft of amazing construction and luxury finishes, views for the new owners to enjoy.
$1,115,953 Priciest townhome sold Million dollar townhome at the entrance of Elk Pass neighborhood in Pine Canyon, beside the 12th fairway of the Pine Canyon golf course.
The most AFFORDABLE Flagstaff Homes (SOLD)
Manufactured home - $185,000 - Located in the peaceful community of Mt Haven, northeast of the city of Flagstaff, this 3-bedroom manufactured home feature a fully fenced backyard, views of Mt Elden.
Single-family - $197,500 - Single level 2 bedroom near NAU, a short walk to downtown. Located in the Southside/Brannen neighborhood
Townhouse - $200,000 - 3 bedroom townhome with bonus loft, private patio and access to Forest Service located in Christmas Tree Estates
Condo - $125,000 - Second story one bedroom end unit at The Arbors (Woodlands Area)
Rising mortgage rates unlikely to put a damper on the real estate market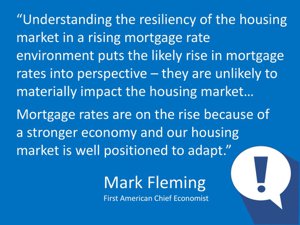 "Constrained home supply, persistent demand, very low unemployment and steady economic growth have given a jolt to the near-term outlook for U.S. housing prices. These conditions are overshadowing concerns that mortgage rate increases expected this year might quash the appetite of prospective homebuyers," Terry Loeb, Pulsenomics.
"Higher interest rates are generally positive for home prices, despite decreasing affordability. There were only three periods of prolonged higher rates: in 1994, 2000, and the Taper Tantrum in 2013. In each period home price appreciation was robust, " Urban Land Institute
Interest rates are likely to go up to 5% at the end of the year. Will this affect home buyer demand? Experts say no, higher rates will NOT kill the market.
Flagstaff Home Buyer Advice
If you are a homeowner and you are planning to buy a home after you sell, now could be the perfect time to put your home on the market. Inventory of Flagstaff homes for sale in the lower price range has improved but not by much. Your house may sell for a competitive price, but you may also need a competitive offer to buy your next place. We can help secure your dream home while you sell and figure out a move-out, move-in timeline.
Home Buying Tips Our home buyer's blog will help you plan and prepare for your successful home purchase and avoid headaches and surprises that may arise during the process.
Sign up for free to receive our updates about coming soon properties and homes for sale not listed on the MLS.
Flagstaff Home Seller Advice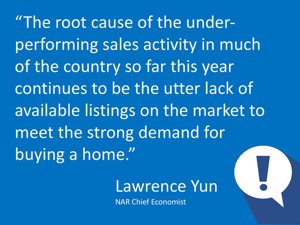 Are home sellers finally ready to put their home on the market? Homebuyer demand continues to rise and continues to drive up home values. Affordable homes priced right are selling rapidly despite the increase in listing prices. We still have a shortage of affordable homes and a glut in supply of higher-end houses.
Inventory continues to rise in the luxury & premium home markets which is causing prices to cool. What's all this mean for you? If you are selling a luxury home, it may take a little more time to find the right buyers. US single-family luxury homes sold 9 days slower in May with median days on market at 40 days from 31 days in April. See the May 2018 Luxury Market Report.
Home Selling Tips Our blog for home sellers has tons of tips to help sell your home faster and add thousands of dollars to your bottom line. Check it out.
SATISFIED CLIENTS SAY IT ALL. Check out our 5 Star Reviews.
GET IN TOUCH
We are your Flagstaff home experts! Please contact us at 888.446.5602 or email kelly.broaddus@exprealty.com with any questions you might have about this report of the Flagstaff real estate market. Contact Us
You Might Be Interested In:
What is My Flagstaff Home Worth?