Flagstaff AZ Real Estate Market Data Provided by The Kelly Broaddus Real Estate Advisors Team / by Joselyn Uy
Chilly February Slow Flagstaff 's Housing Market
After having one of the snowiest February in Flagstaff history spring is here. I'm sure a lot of people loved the change of the season. Spring signal the start of the spring home-selling season and in just a few weeks we will see our first significant numbers in 2019.
Realtor.com reported an 11.8% surge in the US existing home sales after 3 consecutive months of lackluster sales. Here are last month's figures for Flagstaff.
FLAGSTAFF SINGLE FAMILY HOME SALES
Greater Flagstaff's February housing sales slipped slightly. Housing sales for the month totaled 45, slightly less than the 48 sales reported last February and just below the ten-year average of 47 sales for the month.
It was a still a busy month for the Kelly Broaddus Team, with several sellers and buyer going under contract on their dream homes. Here in the mountains during winter, sales are weather dependent - we had one closing for the month. Despite the coldest, snowiest and slowest quarter, we still had the best start (sales and volume) since 2013.
FLAGSTAFF MEDIAN HOME PRICE
Housing prices in the greater Flagstaff region hit a new all-time monthly high in February. The single-family median sale price came in at $430K up 18% from a year ago! February's $430K median sale price record will be tough to beat going forward because inventory levels should rise as we move into the selling season. DOWNLOAD THE FULL FLAGSTAFF MARKET REPORT HERE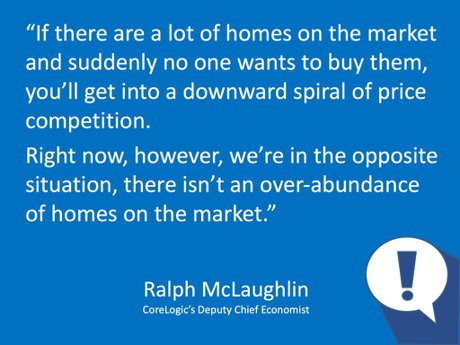 February 2019 Flagstaff Market Watch Summary
Total Home Sales - 45 homes (SF), down 6% vs February 2018.
Median Home Price - $430,000 (SF), up 18% vs February 2018
Mortgage rates - A 30 year fixed rate mortgage with 5% down and very good credit fell back to an average of 4%
Longest days on market (SF): 585 days. A 4 bedroom, 4,316 sqft luxury home in Forest Highlands. Originally listed for almost $1.2 M, this home stayed on the market for 20 months before it sold.
CDOM The acronym CDOM (Cumulative Days on Market) is used by the Flagstaff MLS to describe how many days a property has been available for sale. A property has to be off the MLS for at least 90 days for the CDOM to restart, even if it is listed by a different agent. We report the average days on market for properties sold based on CDOM.
The number of days a home sits on the market can tell us a lot about pricing. A high CDOM is commonly a strong indicator that the home is overpriced.
Flagstaff's Priciest Homes SOLD in February 2019
$1,575,000 - Another Pine Canyon luxury home tops of our most expensive Flagstaff homes list.
$448,500 - Last month's priciest townhome is a 4 bedroom Mountain Oaks subdivision home located inside the Continental Country Club area
$242,500 - 3 bedroom unit in Timberline Place
The most AFFORDABLE Flagstaff Homes Sold in February 2019
Single-family - $143,500 - 2 bedroom fixer-upper in Mountainaire, not livable sold to a cash buyer
Townhouse - $218,000 - Boyington Townhome located in Christmas Tree Estates
Condo - $215,000 - Only 3 Flagstaff condos sold in February. This 2 bedroomArbors studio unit has been renovated and the new kitchen is gorgeous.
Flagstaff Home Buyer Advice
If you are thinking of buying a home, you may not know where to start. Here is a simple list of 10 steps that you will go through to purchase a home. Ask us for details about each step and what else may be required in Flagstaff/Sedona!
Great news for homebuyers: Mortgage rates have continued to drop. The average 30-year fixed loan has dropped 22 basis points to 4.06%, while 15-year fixed loans are down 14 basis points to 3.57%, according to Freddie Mac.
What you need to know about the mortgage process.
Need a lender recommendation for your home loan? We work with trusted lenders who will walk you through the entire process and have your best interest at heart. Contact Kelly today and we will get you one of our trusted lender that best fits your needs.
Inventory levels are rising, and buyers are out and about but we're still at four months inventory meaning we're still in a sellers' market at the under $500K price range. Currently, there are 110+ houses available in the $300K to $399,999 range and 40+ houses available to purchase in the $400K to $450K range. With demand for affordable Flagstaff homes still exceeding supply, we are not expecting home prices to go down anytime soon.
Flagstaff Home Seller Advice
First-time homebuyers and move up buyers who were unable to find a home last year are out in force! The Kelly Broaddus team phone has been ringing non- stop with buyer inquiries and agents are busy showing homes to potential buyers.
All signs are pointing to the market slowly balancing as it transitions from a seller's market to a buyer's market. However, with home sale prices on the rise, pricing is still in the seller's favor. It's going to be a busy spring! If you're thinking about selling, let's get started. Give me a call, send me a text, or email to set up a meeting to talk about your situation.
We are your Flagstaff home experts! Contact 928.606.6749 or email kelly.broaddus@exprealty.com if you are looking for a Northern Arizona realtor to help you buy/sell your Flagstaff/Sedona real estate and the surrounding areas.
We at The Kelly Broaddus Team with eXp Realty know that the only result that ultimately matters is that your home gets sold — and sold for the right amount. Satisfied clients say it all. Check out our 5 Star Reviews.
You Might Be Interested In:
What is My Flagstaff Home Worth?